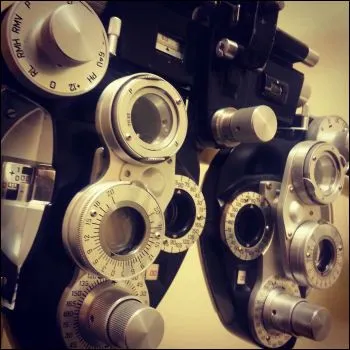 Both Atmore Vision Center and Monroeville Eye Care provide comprehensive eye care with the latest diagnostic equipment and computerized optical labs.
There are many factors that go into determining the best form of vision care for each individual. You, the patient, play a role in that process. We believe in patient education so you have the information you need to make the right decision regarding eye health and eyewear.
Our Services Include:
Comprehensive Vision Exams
Contact Lens Evaluations
Children's Eye Examinations
Vision Therapy
24 Hour On Call Doctor
We Provide Medical Treatment And Help For:
Macular Degeneration
Cataracts
Diabetes
Dry Eye
Eye Infections
Eye Injuries
Glaucoma
Headaches
Allergy Eyes
Orthokeratology (Better Vision Without Surgery)
Astigmatism
Foreign Bodies
Optical Boutique
With more than 450 frames, Atmore Vision Center and Monroeville Eye Care offer the best selection of high-quality designer and exclusive brand frames, lenses, sunglasses and accessories. We carry Under Armour®, Costa Del Mar®, Flexon®, Steve Madden® and many other brand names .
Our optical boutique also has a large selection of no-line bifocals, computer lenses, children's frames, anti-reflective or non-glare lenses, cleaning cloths, cleaning solutions and protective sportswear.

Contact Lenses
Both of our locations carry a broad range of contact lenses and related products from leading manufacturers. From disposable soft lenses to specialty contact lenses, our optometrists are equipped to provide the best options to fit your needs. We ensure good vision, quality lenses, excellent comfort and expert fit.
We also fit gas permeable lenses, lenses for astigmatism, and bifocal contact lenses. Our optometrists are certified to fit specialty lenses including Paragon CRT Lenses for Ortho K (correcting vision while sleeping).
Unique Services
PEDIATRIC VISION
We are pleased to have on staff our Pediatric Optometrist, Dr. Troy Enfinger, who currently resides in the Daphne area. Dr. Enfinger graduated with a degree in Optometry in 2017 and joined our practice shortly after. He specializes in pediatric vision, vision therapy, specialty contact lenses and much more. He is excited about his journey in Optometry and always accepts new patients. Trust your precious children's eye sight to Dr. Enfinger! His patience is impeccable, his technique is untouchable, and his knowledge of vision therapy is extensive.
VISION THERAPY
Dr. Enfinger also specializes in Vision Therapy. Vision Therapy is a form of physical therapy for the eyes and brain. It is a highly effective, non-surgical treatment for many common visual problems such as lazy eye, crossed eyes, double vision and some reading or learning disabilities. Many patients who have been told "it's too late" or "you will have to learn to deal with it" have seen substantial benefits from vision therapy.
LIPIFLOW© TREATMENT
Lipiflow is a treatment performed in our office that is designed to remove blockages from the Meibomian glands, oil glands within the eyelids whose dysfunction contributes to dry eye syndrome. The treatment allows the glands to properly function and produce the oils that make up the top protective lipid layer of tear film. During a 12 minute treatment that gently warms and massage the eyelids, Lipiflow activators deliver a combination of heat to the inner lids and simultaneous therapeutic motion to the outer lids, removing blockages from the Meibomian glands. Our office is one of only five in the entire state of Alabama to provide this high tech service with state of the art equipment. To find out if this procedure would be beneficial to you, visit either of our locations at 166 Lindberg Avenue in Atmore or 3016 South Alabama Avenue in Monroeville. You can also call to make an appointment or request more information.
GOOD RX
Cost is the #1 reason why Americans don't take their medications. GoodRx can save you up to 80% on your prescriptions, as prescription drug prices are not regulated. The cost of a prescription may differ by more than $100 between pharmacies across the street from each other! GoodRx gathers current prices and discounts to help you find the lowest cost pharmacy for your prescriptions. GoodRx is 100% free and no personal information is required. If you are in our office, we have GoodRx cards in our lobby. They are free to anyone that needs them or you can request a card by clicking on the link www.goodrx.com.
NEW PRICING
At Atmore Vision Center and Monroeville Eye Care, we are working hard to beat the stigma that exceptional eye care is expensive. We provide exceptional care along with positive results! We are happy to provide you with a new, simplified pricing structure that is budget friendly. It includes frames, lenses, and anti-reflective treatment as a package, so it's easier to know just how much your glasses will cost.
We also offer "buy one get another at 50% off"! We offer this special on a second pair of lenses as well! To learn more about this offer visit either office where our Opticians will be happy to assist you.
BLEPHEX© TREATMENT
BlephEx® addresses the chronic inflammatory disease of the eyelids known as blepharitis, which affects the tear glands and causes eye irritation and dry eye. The painless, in-office BlephEx® treatment precisely and safely cleans and exfoliates the eyelids and lashes, which will almost immediately improve symptoms and increase eye comfort. Call our office to learn more about this revolutionary new treatment.